Featured Property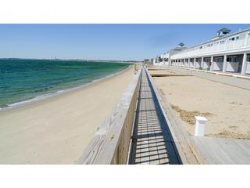 Truro on the Beach!



Testimonials




Montpelier, Vermont

Clean, well-maintained, beautiful view, great location

Left on

06/16/2013

for a stay in June 2013

Great place to stay in Truro. Comfortable, clean, well-maintained. Great views on the bay. Attentive owners. Very convenient to Provincetown and the beaches we love. We were there in the off season and so was very quiet and peaceful.




Jeff

Boston

Great stay on the bay

Left on 09/19/2011 for a stay in August 2011

These new condos had just opened when we stayed here, so were very clean. Its a great place to set up for a week on the Cape, located on Shore Drive a couple miles from Truro beaches and from Provincetown. Space is limited (380- 400 sq ft) perfect for two, with a great balcony overlooking the bay, you can stay on the first floor as well, but I liked the second as no one will walk in front of your doors, and its only about 50ft for a dip. Steve, the Realtor was very helpful and punctual.




Bird

England

Fabulous Ocean Edge

Left on 05/25/2012 for a stay in July 2011

The condo was gorgeous and a lovely base for exploring Cape Cod. Some condos included the leisure pass, but this one did not which was a shame. We did not bother buying one as we were out a lot and did not think it worth it. It would have been nice if it had been included, because then we could have popped to the pool for a quick dip.




Dan and Patty

Saratoga Springs, NY

Fall Getaway

Left on 10/22/2010 for a stay in September 2010

We spent a week enjoying the magnificent fall weather. The condo's location was perfect for what we wanted to do - 80 degree days on Nauset and Marconi beaches, high speed ferry to Nantucket, scenic train ride through cranberry bogs and delicious meals in the Brewster area.
SiteMap - capecodrentalagency.com
OUR VACATION HOMES
Other Services
Area Information